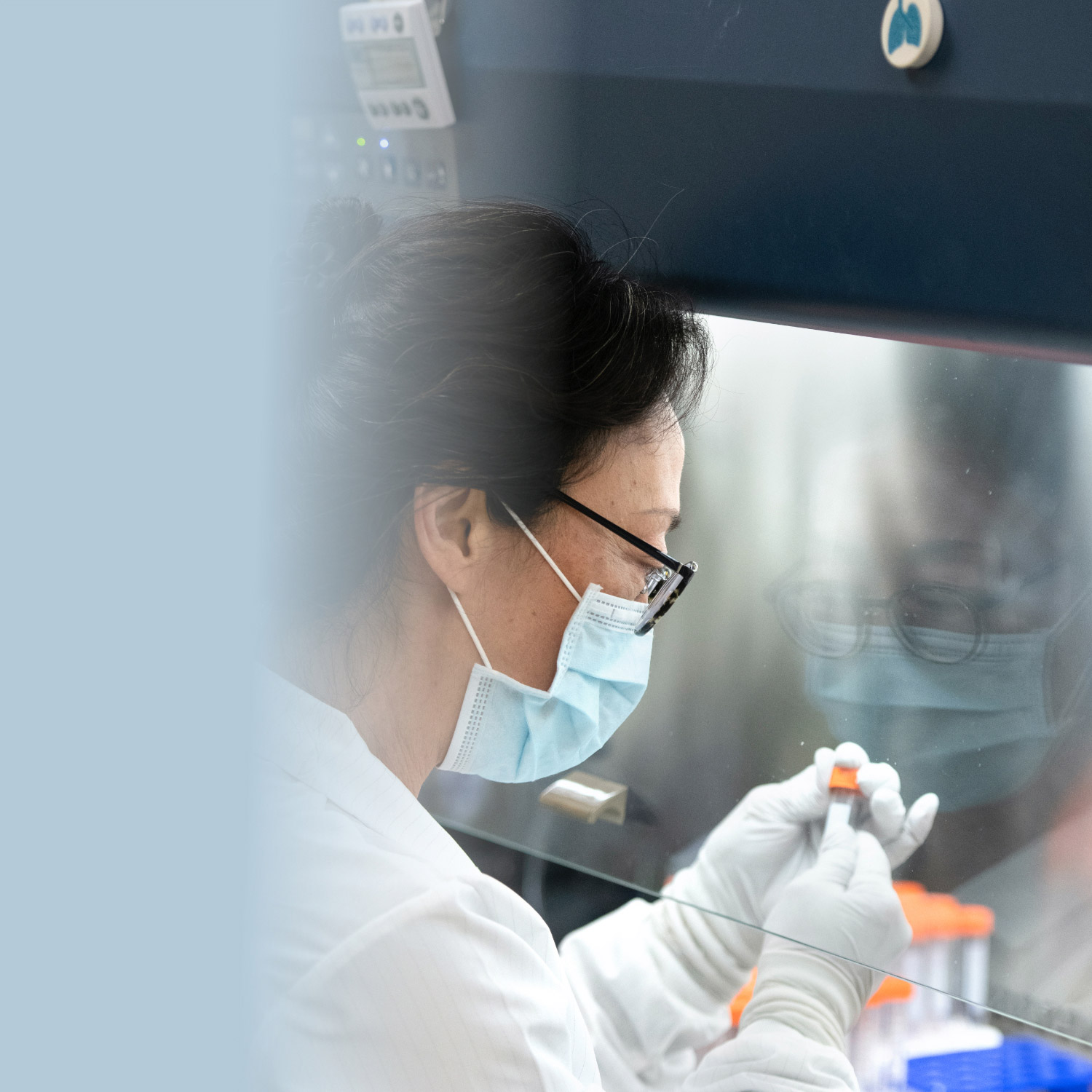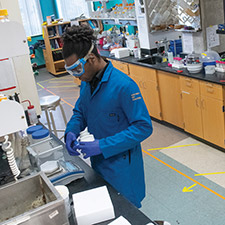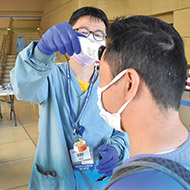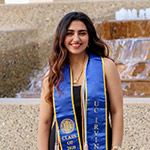 Chapter Five
---
Shifting research focus to fight the virus
Research and the creation of new knowledge are hallmarks of the UC system. So it was notable when UC Berkeley, UC Davis and UC San Francisco leaders began talking in early March about scaling back research in response to an anticipated Bay Area lockdown order.
"At the time, Orange County had not made the decision to issue a stay-at-home order," said Pramod Khargonekar, UCI's vice chancellor for research. He and Bruce Morgan, associate vice chancellor for research administration, started planning anyway – at lightning speed.
"I recall very distinctly getting an email from Pramod on Saturday, March 7, talking about the potential for a ramp-down of research, and I'd already started working on a draft," Morgan said.
It was finished by Monday, March 9, in time for a tabletop exercise in the Emergency Operations Center, which brought into sharp focus the possible impact of the coronavirus on research. By March 16, the Bay Area had shut down, and the next day, the UCI announcement went out. Noncritical research had to be shifted by March 20 to remote operations or postponed completely.
Labs conducting critical research had to ensure they were exceeding social distancing guidelines. Accounting for about 25 percent of UCI's total, critical research was defined as that which would be irreparably harmed or lose funding by pausing or was related to COVID-19. The percentage is relatively high because of UCI's extensive biomedical research community.
"Compliance was incredible," Khargonekar said. "We had been communicating, and people understood that we were making these decisions in good faith. I was astonished at how well it went."
Because they had included key groups and individuals in crafting the frequent messaging, Morgan said, the questions were all about how to preserve research programs rather than second-guessing the need to ramp down. By the time Orange County's shelter-in-place order was issued on March 24, labs that could relocate had done so.
With many labs on campus closed, the research community's attention turned to the shortages of personal protective equipment at UCI Medical Center – with a groundswell of desire to help.
"We worked with Environmental Health & Safety and the School of Medicine to create a process where people could donate equipment and supplies from their labs to the hospital," Khargonekar said. "The challenge was to match the need with supply, and once we had the process set up, it went very smoothly."
Units across campus mobilized to produce new knowledge about COVID-19 – specifically, understanding, managing and treating the disease. Chemistry and biology departments began working on inhibitors to suppress the virus's ability to bind to and enter cells. Art and engineering researchers teamed up with UCI Beall Applied Innovation to craft face shields for front-line workers via 3D printing and laser cutting. Physicians, engineers and corporate partners designed an inexpensive bridge ventilator for use when standard ventilators were unavailable.
"I'm an instructor, so for me, doing this task is simple. But I have to be very careful to make sure the medium doesn't get contaminated. I test the sterility of each vial twice. I know how important every single vial is. When I close the cap, I think of how this one sample represents one person: It's their fate. Whether he or she ends up testing clean or positive for COVID-19 – and knowing how worrisome the latter is – I say a blessing when I close the cap. I say, 'I bless you, whoever you are, to be healthy.'"
Aileen Anderson, director of the Sue & Bill Gross Stem Cell Research Center, transformed her lab into a production facility for viral transport media in response to a potential shortage at the medical center. The hospital was down to a two-week supply of the fluid, which preserves COVID-19 test samples, when leaders reached out to the campus for help. Within a week, Anderson and other UCI scientists had begun turning out not just the VTM but complete test kits, providing about 1,000 in the first run and continuing production through the spring.
Such quick turnaround, Morgan said, is unusual.
"In normal times, researchers would be concerned about preserving their resources for their own research, which they rightly should," he said. "The wonderful thing is that the research community understood the circumstances that the entire community was facing, and the first thing they wanted to do was contribute in a meaningful way, however they could."
In May, the UCI Office of Research issued a call for proposals for new COVID-19 and other infectious diseases research projects. Including $1.25 million in funding from the John and Mary Tu Foundation, about $2.5 million in research support was available through what was dubbed the UCI Joint Research Fund. Ultimately, more than 20 projects received funding.
Discussions were also underway about reopening research labs but with fewer people. Access to labs and buildings in staggered shifts would spread out the use of facilities to 16 hours a day to allow less density. On June 8, resumption of some campus-based research activities began.
"Any work that can be done from home should still be done from home," Khargonekar said. "We will be encouraging that. Our priority is the health and safety of people."
In the long term, he hopes the deficits in knowledge and public health infrastructure exposed by the pandemic in the U.S. will encourage stronger support for research.
"There have been a lot of gaps identified in our nation's readiness, and it makes a very strong case for continuing to invest in research and knowledge so that we remain at the forefront," Khargonekar said. "This is a wake-up call to society to create resilience in all aspects of our societal structure so we can deal with these shocks."
Human resources:
Essential support for employees
UCI is the second-largest employer in Orange County, with more than 25,000 workers on campus and at UCI Medical Center and affiliated clinics. When the order to shelter in place came, Human Resources and Office of Information Technology personnel had to devise a way for all but essential staff to work from home.
For pandemic purposes, "essential" was defined as all medical center employees and anyone on campus whose job was necessary to ensure that department operations continued uninterrupted or who was needed in response to the coronavirus crisis, said Ramona Agrela, associate chancellor and chief human resources executive.
"We left it to the deans and vice chancellors and the chiefs on the hospital side to decide," she said. "It was mostly Facilities Management and some Student Affairs people in housing and dining – about 550 people who were on campus every day."
Staff moved home with mixed success. Some didn't have appropriate computer setups. Stable connections, access to secure systems, laptops and Zoom availability had to be provided. That fell to Tom Andriola, vice chancellor for information, technology and data, and his OIT team. A laptop loan program was established. Capacity was added to the campus's virtual private network to accommodate the increase in off-campus traffic. The Apporto virtual computer lab service allowed the use of research applications. Adobe Creative Cloud offered free access through May 21 for premium software.
While Andriola's group was able to connect everyone to the campus in a short time, making the available meeting and collaboration technologies work for everyone was a bit more challenging.
"Collaboration technologies are very mature today. But in my experience, they work better for teams that have already built face-to-face rapport," Andriola said. "They augment and complement teamwork, but they're not a replacement for getting into a room and solving problems together, and it's very hard to spin up new teams if people don't have a shared history together."
Agrela found that while some UCI associates loved working from home, others experienced loneliness and isolation.
"Just like employees across the country, some felt overworked, stressed and eager to get back to normal," she said. "We focused on the leaders, giving them tools and resources so they could make sure their teams were feeling supported and engaged. That was the hard part. How do you manage remotely?"
Workdays grew longer; Agrela said that people stayed at their computers an average of three hours longer daily as the days blurred into the evenings with no commute to mark the division.
"People don't step away," she said. "You have just as many meetings, but you don't get to move. You're in the same spot."
Katherine Hills, senior director of communications in Human Resources, put together a wellness resources site to encourage employee self-care. Sources for healthy recipes, online exercise classes, meditation, mental health, parenting advice and take-a-break Zot stretches are included. Employee recognition programs, such as the ARIISE Awards and the Staff Service Awards, which don't work as well online, were postponed.
Essential workers – especially those with children – needed different support. Community schools and preschools had shut down, but they still had to be on the job. So UCI leadership partnered with the YMCA to set up day care sites at the DoubleTree by Hilton Hotel next to UCI Medical Center and at the campus's Newkirk Alumni Center for healthcare workers, faculty and graduate students. Hours were from 6 a.m. to 8 p.m. to cover all shifts, and children's meals and snacks were included, provided by UCI Dining Services.
"It's been inspiring to watch my team pick up the challenge and run with it," Agrela said. "When the child care issue arose, they just said, 'We'll figure it out and ask forgiveness later.'"