Katie's 5 favorite books
Pedagogy of the Oppressed, by Paulo Freire
Wolf Hall, by Hilary Mantel
Americanah, by Chimamanda Ngozi Adichie
War Music, by Christopher Logue
Coming Through Slaughter, by Michael Ondaatje
---
A respected pioneer in "gamification," UCI informatics professor Katie Salen excels at making learning fun – or at least more engaging. She describes herself as "a designer, educator and gamer interested in the aesthetics of interactivity and the transformative potential of play."
Originally focused on the visual aspects of game design, Salen holds bachelor's and master's degrees in fine arts and is co-author of the widely influential Rules of Play: Game Design Fundamentals. After tenured positions at the University of Texas at Austin, Parsons the New School for Design and, most recently, DePaul University, she joined the faculty of the Donald Bren School of Information & Computer Sciences last September.
At UCI, Salen is breaking new ground as part of the Connected Learning Lab's dynamic research team, which strives to create educational technologies in equitable, innovative and student-centered ways. Here, she discusses her career evolution and passion for "infusing learning with principles of game design and play."
Q: You've been touted as one of the "top five women in gamification." How does it feel to be a role model to a new generation of female game designers?
A: I've always taken my role as a woman in a male-dominated industry seriously and have worked over the years to help create opportunities for young women interested in the field. I have been lucky enough to carve my own path, and I want to help support others in finding their own way, whatever that might look like.
Q: Your educational background is in graphic design. How did you get into gaming?
A: Games are incredibly beautiful, self-descriptive systems; they have to be engaging because a player can just walk away at any point. I fell into games when I started bringing nondigital games into my interactive design classrooms to teach students how to design a really engaging system. I actually became a practicing game designer for a while, working with gameLab and Microsoft Research in the Xbox division, but I always kept one foot in academia.
Then, about 10 years ago, I started exploring the relationship between games and learning and launched Institute of Play, a nonprofit design studio focused on pioneering new models of learning and engagement. This became my lab, where I collaborated with others to develop and implement a research-based approach to infusing learning with principles of game design and play. Quest to Learn, a New York City public school organized around these ideas, was developed through the institute, and we created a rich array of youth- and educator-facing programs, tools and resources. After that, I launched a games and assessment lab in California and started Connected Camps – an online learning platform powered by youth Minecraft experts – with UCI informatics professor Mimi Ito and designer Tara Tiger Brown.
Q: Is that what brought you to UCI?
A: As a member of the Connected Learning Research Network, I had been collaborating for a long time with Mimi and with UCI School of Education Dean Richard Arum, and I was interested in being part of the Connected Learning Lab, which Mimi leads. I've been involved in the connected-learning community for more than a decade, and I wanted to continue what I had begun at Institute of Play: doing transformative, design-based work with young people and educators.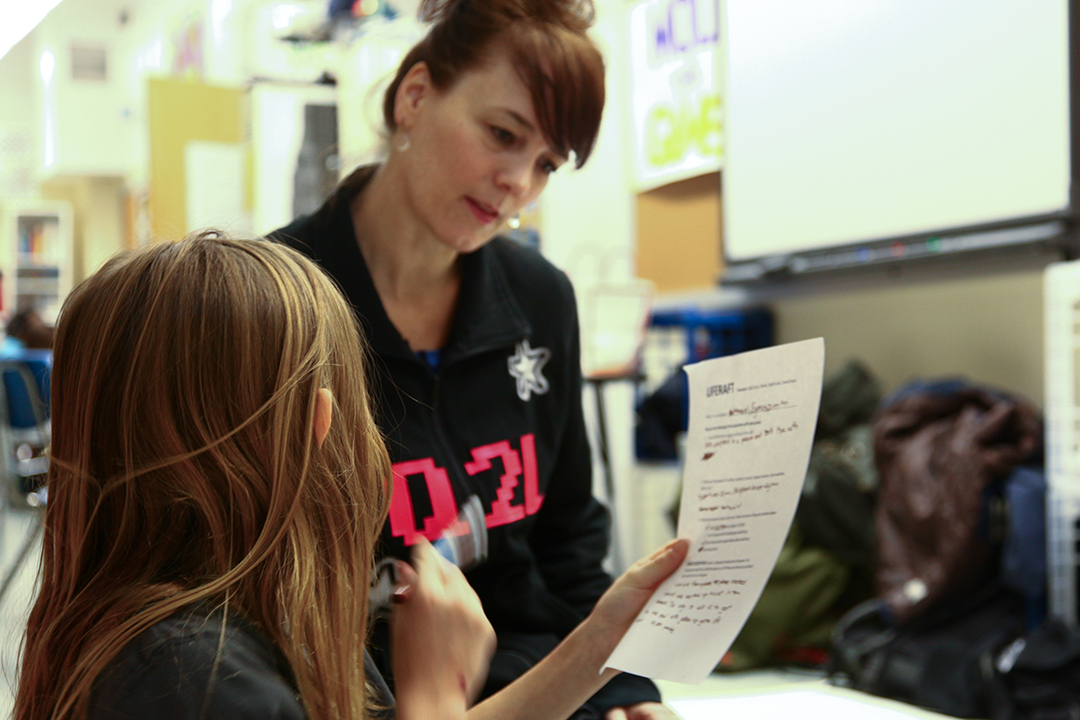 Q: What are you working on now?
A: I'm trying to figure out how you develop really engaging experiences for young people that are centered on their interests. We can learn a lot from what games do – how they organize experiences for players and how they deal with feedback, challenges and problem-solving.
With Connected Camps, my focus has been on understanding the design dimensions of the products we offer – from how programs are structured to support the culture we're cultivating online with youth to structures facilitating informal mentoring between our college counselors and the kids we serve. We run a blog that explores ways of making games and the internet a force for good in the lives of kids, and we're working really hard to understand – from a business perspective – how to scale the platform in ways that make it accessible to all youth. We're working at the intersection of industry, philanthropy and academia to find solutions.
Q: UCI has earned a reputation as a top "gaming" campus, in both academia and esports. How does this environment encourage innovation?
A: We have top-notch faculty who care about education and innovation and amazing students who are passionate about gaming and game development – and are located near some of the best game companies in the industry. It's an environment absolutely supportive of new forms of games, design and play.
- Shani Murray and Tom Vasich