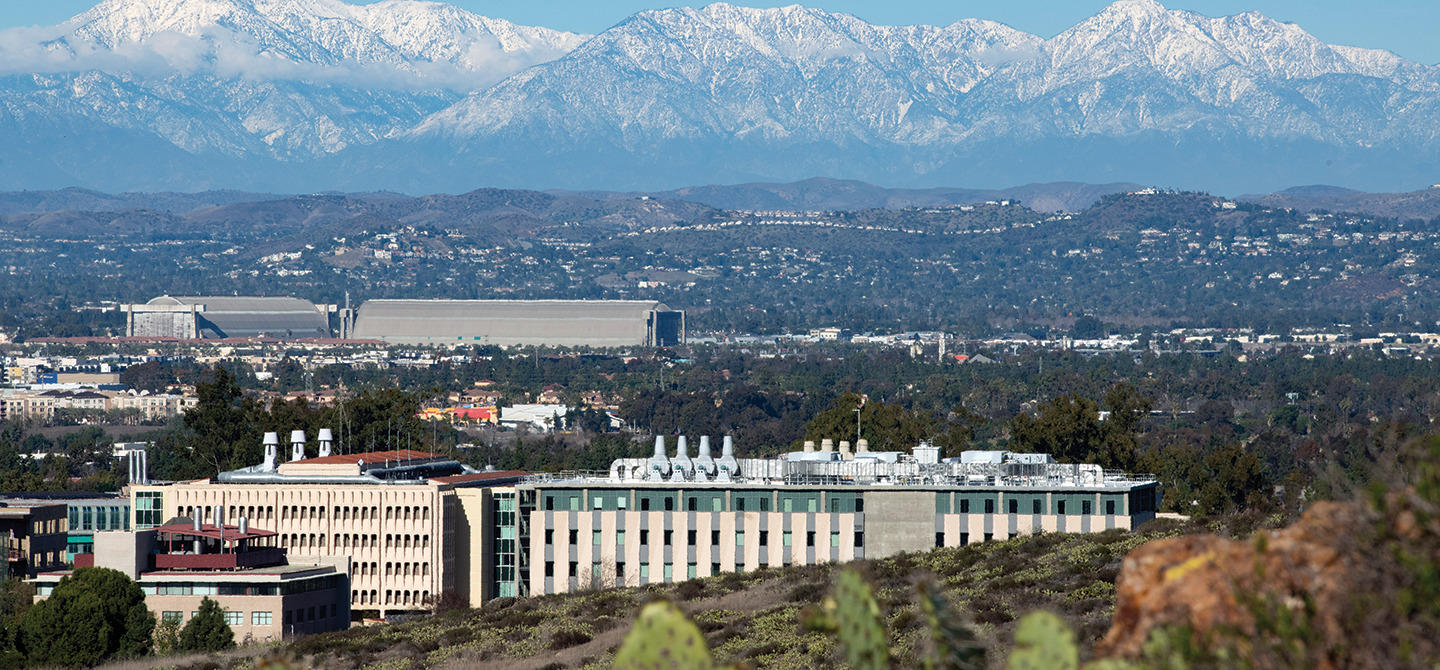 For more than a decade, UCI has been celebrated as one of the nation's most environmentally conscious campuses, including 12 consecutive years at the top of the Sierra Club's "Cool Schools" ranking. Recently, UCI beat 900 other colleges and universities across 40 countries to earn the best score from the Association for the Advancement of Sustainability in Higher Education's sustainability rating system.
But as the saying goes, it's not easy being green. From designing eco-friendly buildings that power high-tech research to teaching students how to compost in their apartments, sustainability at UCI requires a dedicated effort and all hands on deck.
"I don't think we always knew how to harness our collective power," says Anne Krieghoff, a UCI sustainability program manager. "You've got to involve everybody in the process – from the chancellor to the boots on the ground. You can be idealistic, but you really need everybody."
While no one can pinpoint exactly when UCI's environmental coolness started, most agree it was well underway by the time chemistry professor F. Sherwood Rowland and postdoctoral scholar Mario J. Molina won the 1995 Nobel Prize. Their groundbreaking research linked the growing hole in the Earth's protective ozone layer to synthetic chemicals then common in aerosol products, leading to global policy changes.
Wendell Brase, associate chancellor for sustainability, has made energy efficiency a priority at UCI since the 1990s – not only to save the planet, but also to reduce the campus's high energy costs amid state budget cuts. In 2011, when the U.S. Department of Energy challenged institutions to cut energy use 20 percent by 2020, Brase made sure UCI was the first to the goal post, seven years ahead of schedule, drawing accolades from President Barack Obama in his 2014 UCI commencement address.
But modifying energy use at that scale requires more than turning off the lights when leaving a room. Brase focused on what's known as deep energy efficiency: retrofitting heating, cooling, lighting and control systems in existing facilities to slash their power consumption by at least half. While labs take up only 20 percent of space at UCI, they consume more than 50 percent of the campus's total energy, with fans, filters and deep freezers whirring 24/7. Brase worked with teams of engineers, environmental safety leaders and designers to develop
Smart Labs, a system of software and sensors to optimize energy efficiency in research facilities. The UCI Smart Labs protocols have been adopted at seven U.S. national labs, including the Centers for Disease Control and Prevention.
"We're always thinking about solutions that scale up in California and globally – that's part of the mission of the university," says Brase, who partners closely with faculty experts to put their ideas into practice. "At UCI, we don't stop at studying a serious environmental problem. We 'walk the talk' and generously share all our sustainability practices and innovations with other institutions around the world."
While the campus's ever-expanding footprint makes sustainability more challenging, being "under construction indefinitely" has its benefits. Thirty-two newer UCI buildings have been certified by the U.S. Green Building Council's Leadership in Energy and Environmental Design program, which evaluates the sustainability and resource efficiency of projects. And 21 of UCI's new buildings earned the top honor of LEED Platinum – more than anywhere else in the nation.
Better Behaviors
Big-ticket projects aren't the only focus of campus leadership. Small-scale behavioral changes can add up to major impact as well. Carrie Metzgar, UCI sustainability and planning analyst, runs a popular Green Labs program that educates lab staff and researchers on how to keep their lab humming at optimal efficiency. For example, she gives away dusters to participants to clean the coils and vents on their deep freezers, a simple act that can reduce energy use by 25 percent and make the appliances last longer.
"Training students to become researchers who are mindful of sustainability has a ripple effect as they go on to careers – and can even be that little thing that takes them to the next level in a competitive hiring environment," Metzgar says. Some grant makers have started considering the climate impact of labs they support, tying funding to sustainability.
Metzgar points out that some researchers may already be using sustainable methods without even realizing it.
"These daily practices are easier than folks tend to think," she says. "Using natural light instead of overhead lights when possible, shutting the fume hood sash when not in use, reporting water leaks, sharing equipment and supplies with neighboring labs. It's important for us, as UCI community members, to understand that simple habits to improve sustainability do, once they're multiplied, have a significant impact."
Zero Waste
A campus of 56,000 students, faculty and staff  inevitably sheds a lot of detritus. UCI produces 10,000 tons of trash a year but manages to keep 80 percent out of landfills – the best diversion rate in the University of California system. The campus continues working toward the UC's goal of "zero waste," which, in practice, means a 90 percent diversion rate, since there will always be some waste that can't be recycled, reused or composted.
Just 15 years ago, UCI's diversion rate was a mere 10 percent. That's when social ecology alumna Anne Krieghoff joined Facilities Management and introduced a campuswide paper recycling program.

Just 15 years ago, UCI's diversion rate was a mere 10 percent. That's when social ecology alumna Anne Krieghoff joined Facilities Management and introduced a campuswide paper recycling program.
"When you think about curbing climate change, trash is your gateway drug," she says. "It's the one thing we all can do something about."
Over the years, Krieghoff helped add more recycling programs. Today, UCI's food waste goes to the LA Sanitation District, where anaerobic digesters convert the calories into electricity and recycled water. Campus tree trimmings go to the Orange County Great Park for composting. Even Styrofoam – that environmental anathema – gets reborn as surfboards, thanks to a local company, or compressed into reusable "bricks" that can be made into new Styrofoam.