Slideshow
LA Rams at UCI

LA Rams at UCI

LA Rams at UCI

LA Rams at UCI

LA Rams at UCI

LA Rams at UCI

LA Rams at UCI

LA Rams at UCI

LA Rams at UCI

LA Rams at UCI

LA Rams at UCI

LA Rams at UCI

LA Rams at UCI

LA Rams at UCI

LA Rams at UCI

LA Rams at UCI

LA Rams at UCI

LA Rams at UCI

LA Rams at UCI

LA Rams at UCI

LA Rams at UCI

LA Rams at UCI

LA Rams at UCI

LA Rams at UCI

LA Rams at UCI

LA Rams at UCI

LA Rams at UCI

LA Rams at UCI

LA Rams at UCI

LA Rams at UCI

LA Rams at UCI

LA Rams at UCI

LA Rams at UCI

LA Rams at UCI

LA Rams at UCI
The Physics of Football
UCI professor explains the science behind effective tackling and throwing
If Isaac Newton were alive today, he'd probably be a vampire, because how else do you explain someone living to the age of 373? He might also be entranced by pro football as a laboratory on the laws of physics, including some of his own discoveries.
For example, tackling and blocking demonstrate Newton's third law of motion, which states that for every action, there's an equal and opposite reaction.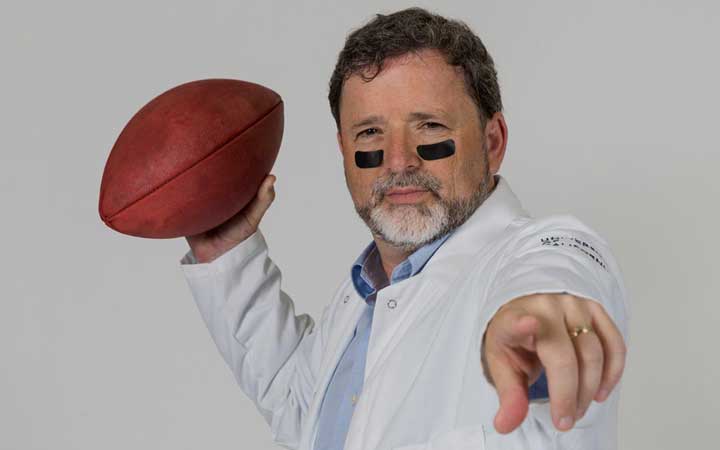 Physicist Michael Dennin, vice provost for teaching and learning at the University of California, Irvine
"When two players collide, both feel the same amount of force during the hit," says physicist Michael Dennin, vice provost for teaching and learning at the University of California, Irvine.
So why does one player usually come out ahead? "The only other relevant force is the ground," Dennin says. "The way you win is by using that surface. If you hit someone with an upward angle, it gives you a more effective net force because you're pushing off the turf."
That makes leg strength crucial for players, but the upper body is also important, he adds: "In tackling, you need arm and core muscle power to maintain a grip on your opponent."
One additional factor is the point of contact. Tackling is essentially about rotating the ball carrier down to the ground, Dennin says, so where you hit him determines success. "Think of trying to close a door," he says. "If you apply force close to the hinge, the door doesn't move much. But if you apply force at the handle, the door closes easily."
Another aspect of the game that showcases scientific principles is passing.
"The football is a fun physics object because it's not a sphere," Dennin says. "The secret to a stable pass is the spiral."
When thrown properly, a football rotates about 600 times a minute, or 12.5 mph, he says. "It's a good example of angular momentum," the same force at work in a gyroscope or spinning top, Dennin says. It keeps the ball on target. Without a good spiral, he notes, the football flies like "a wounded duck." And you don't have to be Isaac Newton to know that a wobbly pass is more likely to be intercepted.
How To Host a Football Team
After decades, UCI finally has a football team! OK, it's only for a few weeks, but it still takes a lot of preparation. The Rams are bringing in new turf, bigger beds, tons of food, even "anti-Belichick" dorm locks to thwart potential spies. Here's a rundown of the logistics.
How many Rams will be on campus?
200+
What does it take to build a football field?
10 grounds crew members to excavate the old grass
2 laser technicians to level the dirt on the field
14 days total to excavate and install grass for the field
230,000 sq ft of Bandera Bermuda Grass
Rams at a Glance
Including:
23 Coaches
6 Trainers
2 Nutritionists
4 Equipment Managers
1 Rampage
Ram-Friendly Furniture
Our dining room chairs had to be weight-tested to ensure they could hold
400 lbs.
Where do Rams Sleep?
Larger King beds are needed for mighty RAM bodies in UCI dorm rooms.
What do Rams Drink at Camp?
400 cases

of water

400 cases

of Gatorade

500 gallons

of juice
What do Rams Eat?
The average football player Devours up to 10,000 calories per day during training camp. 3x more calories than the average person!
---
To accommodate larger portions, plates have been enlarged to 10.5"
What Fuels a Team of Rams?
| Item | Quantity |
| --- | --- |
| Eggs | 70 lbs |
| Bacon | 30 lbs |
| Sausage | 20 lbs |
| Fresh Fruit | 125 lbs |
| Prime Rib | 150 lbs |
| Roasted Shrimp | 125 lbs |
| Grilled Chicken | 220 lbs |
| Rice Pilaf | 300 cups |
| Full Potato Croquettes | 100 lbs |
| Grilled Asparagus | 100 lbs |
| Cauliflower Tian | 100 lbs |
| Kale Salad | 40 lbs |
| Seasonal Veggies | 53 lbs |
| Vanilla Cake | 250 |
Mascot Matchup
Peter vs. Rampage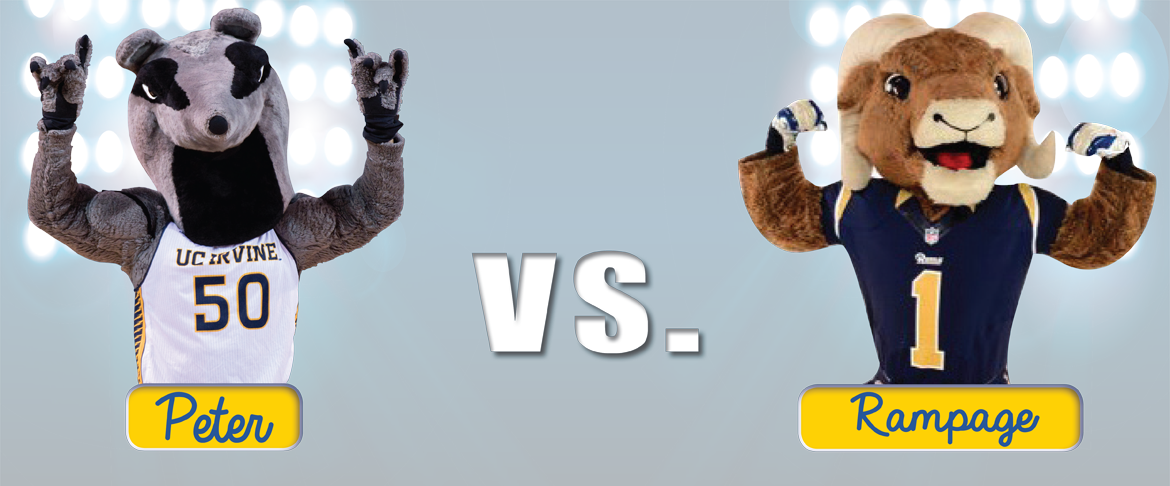 Statistic
Peter
Rampage
Gender
Male
Male
Age
50
10
Hometown
Irvine
L.A. & St. Louis
Honors
Mashable's Mascot Madness Champ
Star on the Hollywood
Walk of Fame
Celeb Fans
Conan O'Brien
Nelly
Height
6'9"
6'1"
Education
College major: Sprit, Loyalty
Minor: Entertainment & Tradition
MA in Turf
Management
Fav. Movie
Empire of the Ants, Antz, Ant-Man
Rambo
Weight
A gentle-ant never tells
200 lbs
Fav. Hangout
Aldrich Park
L.A. Zoo
Food
Ants, duh!
Seahawk wings